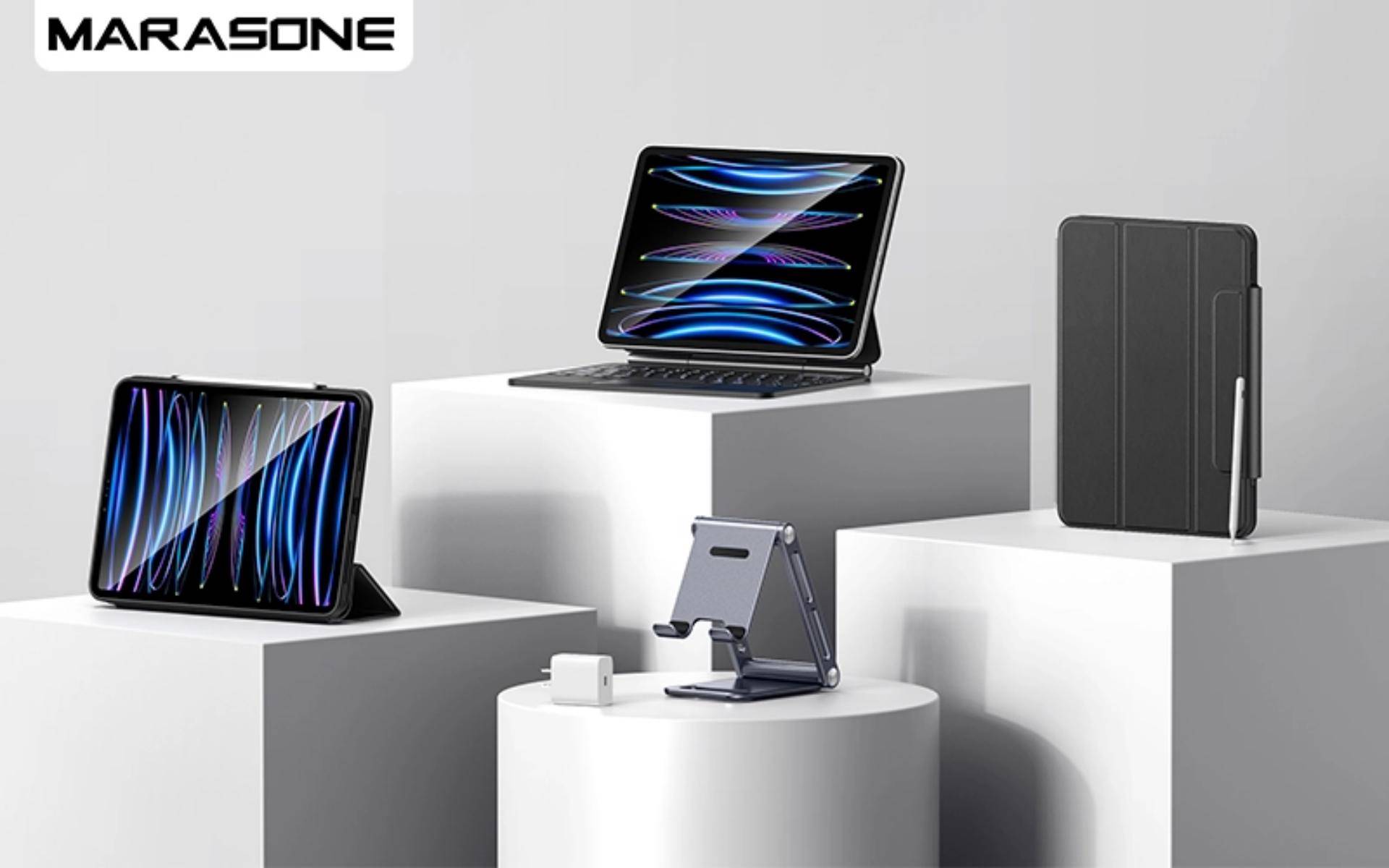 Marasone iPad accessories
Choose Marasone Accessories and experience the perfect blend of functionality, affordability, and style for your iPad.
Marasone iPad Accessories: Enhancing Your Tablet Experience
The iPad has revolutionized the way we interact with technology, and with its portability, versatility, and functionality, it has become a staple device for many individuals. As such, finding the right accessories to complement and enhance its features is crucial. Marasone iPad Accessories offer a wide range of products that cater to every user's needs, from keyboard cases to chargers, and more. In this article, we'll explore the top Marasone iPad accessories, their features, and how they can enhance your tablet experience.
Protect Your iPad with High-Quality Tablet Computer Accessories
One of the most important things to consider when using a tablet is its protection. iPads are known for their delicate and sleek designs, which makes them susceptible to scratches, dents, and cracks. To prevent any damage to your device, investing in high-quality tablet computer accessories from Marasone is a must. The brand offers a variety of options, including shell cases, screen protectors, and folio cases.
The Marasone iPad shell case is a slim and lightweight option that provides excellent protection against scratches and minor impacts. Made with high-quality materials, it is designed to fit your iPad perfectly, ensuring that all ports, buttons, and speakers remain accessible. The shell case comes in a variety of colors, allowing you to choose one that suits your style.
For a more robust option, Marasone also offers folio cases that provide full coverage and protection for your iPad. These cases come with multiple viewing angles, allowing you to adjust your iPad's angle according to your preference. Some models also feature a built-in stand and a magnetic closure, ensuring that your iPad stays securely in place.
Boost Your Productivity with a Keyboard Case
If you're someone who uses your iPad for work or school, then a keyboard case is a must-have accessory. Not only does it make typing more comfortable and efficient, but it also protects your iPad from potential damage. Marasone offers a variety of keyboard cases, each with unique features that cater to different needs.
The Marasone keyboard case features a slim and lightweight design that seamlessly integrates with your iPad. It has a backlit keyboard that provides excellent visibility, making it perfect for typing in low-light conditions. Additionally, the case features an adjustable stand, allowing you to find the perfect angle for your iPad.
For those who prefer a more traditional typing experience, the Marasone Bluetooth keyboard case is an excellent option. It features a full-sized keyboard with a tactile feel, providing an experience similar to that of a laptop. The case also comes with a built-in stand and a rechargeable battery that lasts up to six months.
Improve Your Creativity with a Stylus pen
Whether you're an artist or designer, or simply enjoy taking notes, a stylus can take your iPad experience to the next level. Marasone offers a range of stylus pens, each designed with unique features that cater to different needs.
The Marasone stylus pen is a high-quality option that offers excellent precision and accuracy. Its ultra-fine tip allows you to make detailed drawings or take notes with ease. Additionally, the pen comes with a magnetic cap that protects the tip and can be attached to your iPad for easy storage.
For those who prefer a more ergonomic design, the Marasone stylus pencil is an excellent option. It features a pencil-like design that provides a comfortable grip, making it perfect for extended use. The stylus also comes with a replaceable tip, allowing you to switch between a fine and broad point.
Keep Your iPad Charged with a Reliable Charger
A dead battery can be a frustrating experience, especially when you need to use your iPad most. To avoid this, having a reliable charger is a must to keep your devices charged throughout the day. Marasone offers a range of chargers for different needs.
The Marasone 20W High Power Charger is a compact and lightweight option that charges your iPad quickly and efficiently. It has a USB-C port, which can charge other tablets or other devices in addition to the iPad. Plus, the charger has built-in protection against overheating, overcharging, and short circuits to keep your devices safe.
In conclusion, Marasone iPad Accessories offer a wide range of products that cater to every user's needs, whether you're looking for protection, productivity, creativity, or convenience. Their high-quality tablet computer accessories, keyboard cases, stylus pens, and chargers can enhance your iPad experience and help you get the most out of your device. By investing in these accessories, you can improve your productivity, creativity, and overall enjoyment of using your iPad. So, whether you're a student, professional, or casual user, Marasone iPad Accessories have got you covered.
Sign up for our Newsletter
Subscribe to out newsletter and always be the first to hear about what is happening.